---
Cambridge Camera Club Annual Exhibition 2017
The Pitt Building, Trumpington St. CB2 1RP
Monday 24 April to Saturday 29 April 2017; Mon 1pm - 5pm, Tues to Sat 10am – 5
General Information
Showcasing some of the best images taken recently by its members. As one of the oldest photographic societies in the country and the biggest in East Anglia, its talents are displayed with over 400 print and digital images. The diverse subjects include landscapes, architecture, natural history, people and creative compositions.
---
Members of the club can have at least one print and one digital image displayed. The images are selected by a panel of three Selectors and Awards are made for various types of photography. there will be over 200 prints and a comparable number of digital images displayed.
---
All the Prints are framed and the digital files are displayed on a large TV
Prints and cards are on sale.
---
The 2017 Exhibition will be open from 1 pm on Monday 25th April till 5pm and then each day from 10am till 5pm until Saturday 29th April.
---
A Young Photographer Exhibition is held each year - it is open to 18 and under. The entered prints are all displayed at the Exhibition in Cambridge and prizes given for the best entries in different age categories.
We have been running the young photographers' competition for a few years. Most young people take photos with their smart phones or compact cameras. They are often snatched moments, blurred and without due thought. This competition aims to get them to think about what they can do creatively with their cameras.
If you would like to know more about this competition, please email sarah.hall55@btinternet.com or ring me on 01223 890967
Click here to download the entry form for the Young Photographer's Competition, and here for the entry rules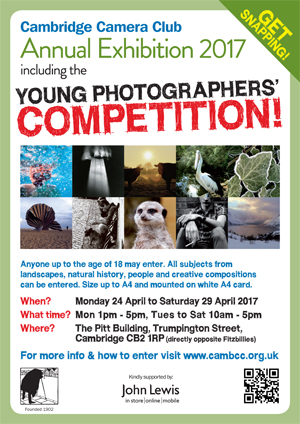 Sponsors
Cambridge Camera Club are very grateful to the following companies for their support for our Annual Exhibition
---